Nursery & Landscape Design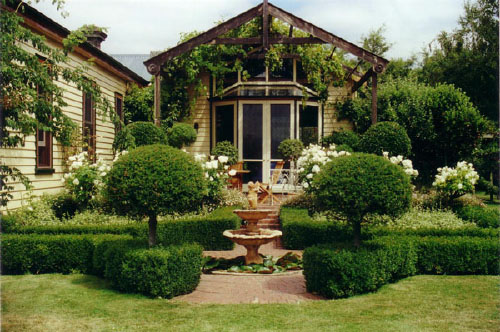 The Tasmanian Gourmet Sauce Company has an offshoot - a stunning plant and topiary nursery. It has been cultivated from windswept paddocks by landscape designer and co-proprietor, Tim Barbour. Tim has been designing Tasmanian and interstate gardens for more than 30 years. He is renowned for creating some of the finest gardens in the state.

Trained in horticulture and landscape design, Tim has the breadth of knowledge to encompass the garden's design and appropriate and sustainable plantings. His passion is formal design but he has an equal interest in contemporary and native gardens. "Essentially, the design should be sympathetic to the associated residence or buildings to achieve the best result."

Contact Tim for garden design, consultation and installation.
Plant Sourcing and Supply
Tim can assist in sourcing the best and most appropriate plants for your landscape project. Too often, homeowners plant poorly chosen species to have their decisions backfire and result in expensive removal and maintenance fees. Tim can provide you with sound advice regarding plant selection and sourcing.
The Nursery
Topiary is eternally popular, particularly associated with formal landscape design. We have a wide range of topiaries, and a selection of shrubs and trees, most of which you can see growing in the garden, Many are over 10 years old so immediate impact can be achieved. We can also provide a range of pots for potted topiary and offer a re-potting service as well.
Landscape Design Services
A designed garden ultimately saves money as the implementation is planned and progressive with no wasted dollars along the way. In addition, the real estate industry now rates outdoor living as the most desirable aspect when considering buying a house. Considerable value can be added to a property when investing in design that is suited to the property and lifestyle.
Client Feeback
The quality of our outdoor living space has improved so much since we engaged Tim's services. Our garden has become a natural extension of our home and we would recommend Tim's designs to anyone considering upgrading their property.