Chilli Jam Chicken Thighs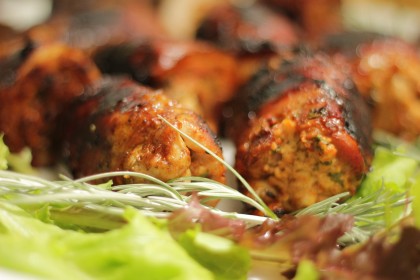 Chilli Jam Chicken Thighs
Ingredients
4 chicken thighs – butterfly as thinly as possible
1 small bunch coriander finely chopped
4 slices prosciutto
4 tbs TGS Co. Chilli Jam
100g goats cheese
Instructions
Mix coriander, chilli jam and goat's cheese to a paste.
Spread onto butterfly thighs
Roll thighs tightly and place at end of prosciutto slice. Roll tightly.
Place thighs on a low heat BBQ plate or in a moderate oven at 180C – seam side facing down
If cooking on the BBQ, cook over low heat. When nearly cooked, increase the heat to char slightly
Optional: For a little more heat, brush Chilli Jam onto the rolls when nearly cooked and grill for about 2 minutes turning as they caramelise.