Spicy Scotch Eggs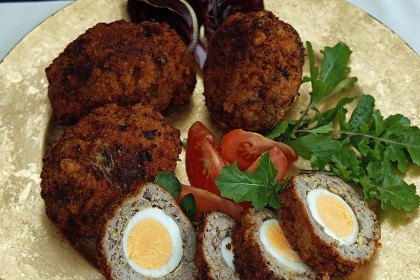 Spicy Scotch Eggs
2014-05-13 12:04:53
This is a spicy version of an old favourite not to be missed
Ingredients
600g minced pork
½ onion, finely chopped
2 cloves garlic, chopped
3 tbs TGS Co Honey Mustard
1 tbs TGS Co Worcestershire sauce
1 tbs thyme
3 tbs TGS Co Thai chilli sauce
6 eggs, at room temperature, plus two extra eggs, lightly beaten, for egg wash
plain flour for dusting
150g fine white dry breadcrumbs
Sunflower oil for deep frying
Instructions
Combine pork, onion, garlic. Mustard, Worcestershire and Thai chilli sauce in a bowl.
Season to taste and refrigerate until required.
Bring a saucepan of water to boiling, then simmer over low heat. Carefully add eggs and stir occasionally for 9 minutes. Drain and peel the eggs. Dust in flour, shaking off excess.
Shape ⅙ of pork mixture into a cup and make a slight indent. Place a boiled egg in the indent and carefully mould mince around to enclose. Repeat with remaining pork mixture and eggs.
Dust each egg ball in flour, then egg wash, then roll in breadcrumbs.
Heat oil in deep fryer to 180C. Deep fry eggs, turning several times, until breadcrumbs are golden and pork is cooked through (6-7 minutes) Drain on absorbent paper.
Notes
Serve as an entree or main with green salad
Tasmanian Gourmet Sauce Company https://gourmetsauce.com.au/