Spicy Potato Waffles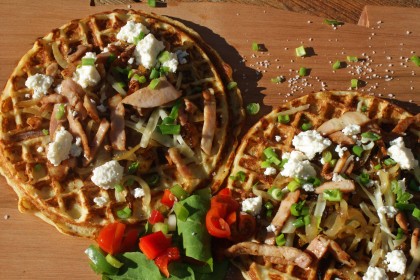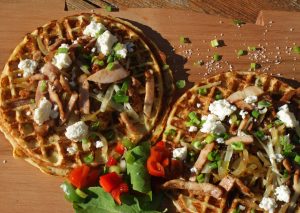 Spicy Potato Waffles
2015-06-24 15:58:01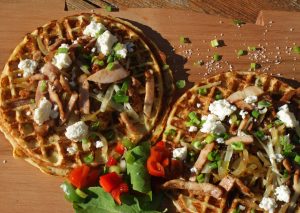 Novel and delicious- somewhere between rosti and pizza
Ingredients
800g potatoes, peeled and cut into small even pieces
¼ cup extra-virgin olive oil
1 small onion, finely chopped (for waffle batter)
1 large onion, thinly sliced (for frying)
4 rashers bacon, thickly sliced
2/3 cup milk
2 tbs TGS Co Hot Chilli Mustard
Salt and ground pepper to season
2 large eggs
1 cup flour
2 tsp baking powder
Instructions
Boil potatoes in salted water until just soft. Drain potatoes and transfer to bowl, reserving about 1 cup of potato water.
Heat olive oil in a small skillet and sauté onion until it softens. Pour the oil and onions over the potatoes. Warm the milk slightly, then pour over the potatoes. Add the Hot Chilli Mustard.
Mash potatoes adding a ¼ cup of potato water, reserving the rest. Continue to mash until mixture is smoother than normal mashed potato. If too stiff, add a little more potato water until consistency is correct. Season with salt and pepper.
Complete the batter by beating eggs into the mixture. Combine the flour and baking powder, then fold into the potato mixture and mix well.
Meanwhile, melt butter in a frying pan and fry onion until caramelised. Set aside and keep warm. Add bacon to pan and fry until crisp. Add bacon to onion and mix lightly.
Grease a preheated waffle machine with cooking spray and pour on enough mixture to cover the surface.
Cook until golden. Repeat with remaining mixture.
Spread onion and bacon over waffle and scatter goat's cheese over.
Notes
Serve with extra Hot Chilli Mustard if desired.
Tasmanian Gourmet Sauce Company https://gourmetsauce.com.au/