Tasmanian Smoked Salmon Rosti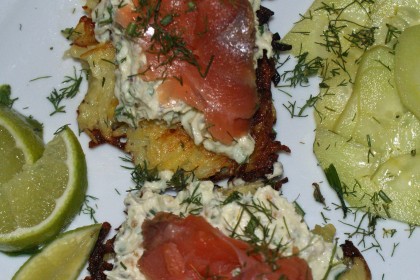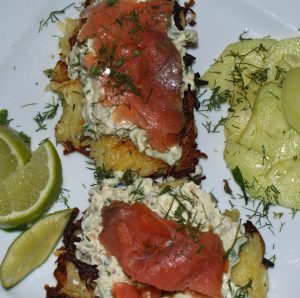 Smoked Salmon Rosti
2015-04-15 15:37:02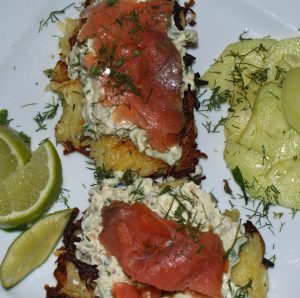 Ingredients
200g smoked salmon
700g potatoes
60g butter melted
1 tbsp thyme leaves chopped
1 egg beaten
1 tbsp castor sugar
¼ cup white vinegar
1 cucumber
200g mascarpone
1 lemon, rind and juice
1 bunch chives, finely chopped
1 tbsp dill chopped
Instructions
Place potatoes into a pot of cold water, bring to the boil, then simmer, cook for 5 minutes, drain and cool.
Grate cold potato into a bowl. Add thyme, butter and egg and mix well.
Heat sugar, vinegar together dissolving sugar. Peel slices of cucumber into a bowl and pour liquid over. Pickle for 15 minutes and drain.
Heat a 2mm layer of oil in a pan. Gently fry 1/3 cup of potato mix for 3 minutes each side or until golden.
Mix mascarpone, lemon rind, juice and chives.
Serve rostis topped with salmon and pickled cucumber.
Notes
Serve with green salad and thinly sliced lime.
Tasmanian Gourmet Sauce Company https://gourmetsauce.com.au/
What you can read next