Silver Beet Salad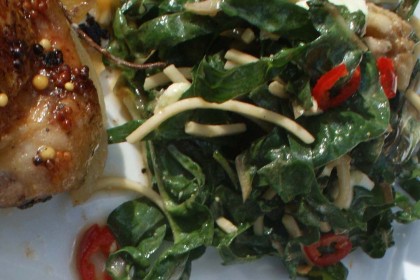 Silver Beet Salad
2015-06-26 08:20:04
An all year round salad
Ingredients
1 Large bunch silver beet, finely chopped
1 red Onion, finely sliced
½ cup toasted walnuts chopped
200g feta, crumbled
100g fried noodles
Instructions
Dressing
1/3 cup cider vinegar
1/3 cup olive oil
½ large lemon, juiced
2 tbs TGS Co Honey Mustard
2 tbs soy sauce
2 tsp honey
1 clove garlic, crushed
pinch salt
Add all ingredients to a jar and shake well
For the Salad
Rinse silver beet and chop finely after removing the thick white stems
Slice red onion thinly
Mix onion and beet, then add crumbled feta and toasted walnuts and mix gently.
Add noodles just prior to serving and mix through with dressing.
Notes
Garnish with thinly sliced red chilli for a little heat.
Tasmanian Gourmet Sauce Company https://gourmetsauce.com.au/