Rum and Marmalade Pork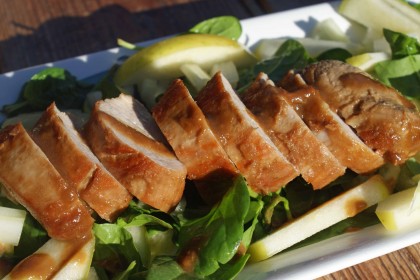 Rum and Marmalade Pork
2015-06-26 08:12:39
No, you won't be over the limit!
Ingredients
1.5kg Pork tenderloins
1 cup Rum
170g TGS Co Whisky Seville Marmalade
2 tbs soy sauce
2 tbs TGS Co Honey Mustard
2 tbs olive oil
500ml chicken stock
1 Granny Smith apple cut into fingers
2 celery stalks, sliced
35g walnuts, roughly chopped and toasted
50g baby spinach
Instructions
Combine rum, soy sauce, mustard and 115g of the marmalade in a bowl.
Heat the oil in a large heavy based casserole dish over high heat. Add pork and cook for 8-10 minutes, turning regularly until browned all over.
Add rum mixture to the dish and bring to the boil. Add stock and reduce heat to low. Simmer, covered for 15 minutes turning once. Cook uncovered for a further 10 minutes basting regularly. Transfer pork to a plate and keep warm.
Place 250ml of the pan juices into a saucepan and add remaining marmalade. Cook over low heat stirring regularly for about 15 minutes or until slightly thickened.
Arrange apple, celery, spinach and walnuts on a platter. Slice the pork and arrange on top. Drizzle with the marmalade mixture.
Notes
Healthy healthy!
Tasmanian Gourmet Sauce Company https://gourmetsauce.com.au/
What you can read next