Rosemary& Pepperberry Farinata (Ligurian Chickpea Pancake)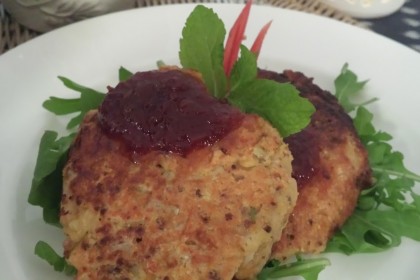 Rosemary& Pepperberry Farinata (Ligurian Chickpea Pancake)
2013-11-24 07:24:22
Ingredients
1/2 cup chickpea (besan)
2 tbs olive oil, plus extra to shallow
1 leek (white part only) thinly
2 cloves garlic, chopped
2 tbs rosemary, finely chopped
1/2 tsp chilli flakes
1/2 tsp smoked paprika
1 tsp salt
2 tbs Tasmanian Gourmet Sauce Company Pepperberry Mustard
1 tsp ground coriander
2 tsp ground cumin
400g can chickpeas, rinsed and drained
Instructions
Whisk the flour with water until smooth. Set aside for 30 minutes to rest.
Heat oil in a frypan over medium-low heat. Cook the leek and garlic until leek starts to soften.
Add rosemary, spices, salt and Pepperberry Mustard and cook, stirring for 2-3 minutes until fragrant. Set mixture aside in a bowl.
Blitz chickpeas in a food processor until coarsely chopped. Stir into the batter with the leek mixture until combined. The mix should have the consistency of pancake batter. Add a little water to thin if necessary.
Heat pan over medium heat with 3 cm oil. Add 1/2 cup batter, swirling pan to coat.
Cook for 1-2 minutes each side until golden. Drain on paper towel and repeat the process.
By Tasmanian Gourmet Sauce Company
Tasmanian Gourmet Sauce Company https://gourmetsauce.com.au/
What you can read next