Rose scented Pavlova with Berry Compote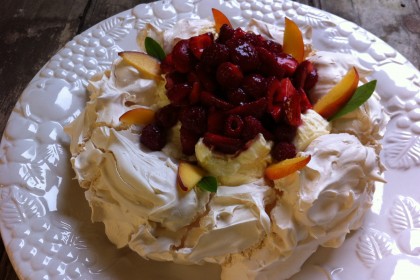 6 egg whites
300 g caster sugar
1 teaspoon white vinegar
1 dessertspoon cornflour
2 teaspoons rosewater
1/3 cup icing sugar (not icing mixture)
4 cups mixed summer berries
125 grams TGSC Raspberry Sauce
600 ml whipped dairy cream
METHOD
Set oven to 150 degrees & line baking tray with bake paper.
Meringue
Beat egg whites till glossy and soft peaks form. Add caster sugar 1 tablespoon at a time until fully incorporated.
When all caster sugar is blended and meringue is glossy, add vinegar, sifted cornflour, rosewater and sifted icing sugar and beat meringue mixture until thick and strong peaks form.
Spoon meringue onto lined baking pan, turn oven down to 130 degrees, and place pavlova into oven – bake for 1 hour.
After 1 hour, turn oven off and leave pavlova in oven for several hours to cool and dry.
Berry Compote
Mix approximately four cups of prepared mixed berries with half a bottle of one of Tasmanian Sauce Company's fruit sauces – for best colour effect, use Boysenberry, Loganberry or Raspberry Sauce.
Cream
Whip cream till glossy & soft peaks form.
Assembly
When pavlova is cool, and just before serving time, spoon or pipe whipped cream over the meringue, and top with berry compote.
Garnish to your heart's content! Serve with lashings of cream & a generous drizzle of TGSC Raspberry Sauce!
What you can read next