Roast Marmalade Chicken with winter salad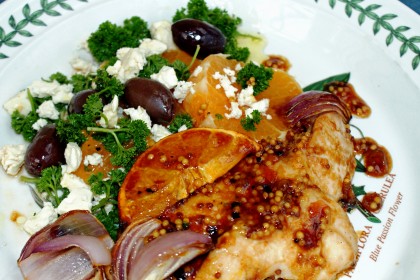 Roast Marmalade Chicken with Winter Salad
2014-05-13 13:19:33
Oranges are at their best in winter so make the most of them in this wonderful dish.
Ingredients
4 tbs TGS Co Whisky Seville Marmalade
3 tbs TGS Co Honey Mustard
8 medium chicken breast fillets skin on
2 red onions, quartered
1 orange, quartered
juice of 1 orange
1 tbs olive oil
Winter Salad
2 tbs sherry vinegar
¼ cup olive oil
½ cup parsley leaves
100g feta, crumbled
2 oranges, peeled, pith removed and cut into 5mm rounds
Instructions
Preheat oven to 200C and line a roasting pan with baking paper
Mix the marmalade and mustard with some sea salt and pepper in a large bowl. Add the chicken and coat well. Arrange the chicken, skin side up and drizzle with any remaining marmalade mixture.
Scatter over the onion and orange quarters, then drizzle with the orange juice and olive oil.
Roast for 35-40 minutes until the chicken is golden and cooked through, basting several times with pan juices.
Meanwhile, for the winter salad, whisk together the vinegar and olive oil in a bowl. Add the parsley, olives, feta and orange and toss gently to combine.
Notes
Divide chicken and salad among 4 - 6 plates and drizzle any remaining pan juices over
Tasmanian Gourmet Sauce Company https://gourmetsauce.com.au/