Chicken stuffed with Hazelnuts and Camembert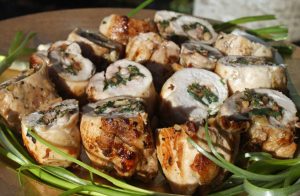 Chicken stuffed with Hazelnuts and Camembert
2015-06-24 17:36:00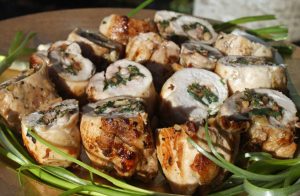 So easy and so delicious
Ingredients
150g baby spinach leaves
100g camembert, coarsely chopped
75g hazelnuts, roughly chopped
60g TGS Co Plum and Pepperberry Chutney
8 chicken thigh fillets
1 tbs olive oil
Instructions
Preheat oven to 180C
1 Place spinach in a heatproof bowl and cover with boiling water for 30 seconds or until wilted. Drain, then refresh under cold running water. Squeeze to remove excess liquid, chop coarsely and place in a bowl with camembert, hazelnuts and chutney. Mix lightly to combine.
2 Spread chicken thighs on a work surface and butterfly the thicker end sections. Divide the mixture between the breasts and spread over the thigh surfaces. Roll each thigh tightly and tie with unwaxed kitchen string.
3 Heat oil in large frying pan over high heat and cook for about 4 minutes or until all sides are golden.
4 Transfer to a large greased baking tray. Bake in the oven for about 10 minutes or until cooked through.
5 Allow to rest for 2-3 minutes. Cut and remove string, then cut each thigh into two.
Notes
Serve 4 as a main or 2 as an entrée with green salad.
Tasmanian Gourmet Sauce Company https://gourmetsauce.com.au/