Pepperberry, spinach and ricotta fritters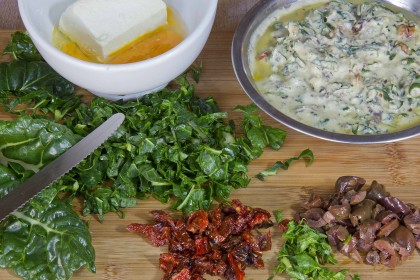 Pepperberry, spinach and ricotta fritters
2014-05-14 14:30:58
Probably the healthiest fritter to grace a frying pan!
Ingredients
1 large bunch spinach, trimmed (about350g)
½ cup skim milk
2 eggs 250g low-fat ricotta
1 cup self-raising flour
½ cup chopped semi-dried tomatoes
⅓ cup kalamata olives, chopped
¼ cup basil, chopped
4 tbs TGS Co Pepperberry Mustard
Instructions
Place spinach into a large bowl and just cover with boiling water and set aside for 30 seconds. Plunge into a bowl of cold water. Drain well, squeeze out excess water and chop finely.
Whisk milk, eggs and ricotta together in a large bowl. Gradually add flour and whisk until smooth. Stir in spinach, semi-dried tomatoes, olives, basil and Pepperberry Mustard and basil.
Spray a large frying pan with olive oil and place over medium heat. Spoon ¼ cup of mixture per fritta into the pan and cook for 3 minutes each side or until golden and cooked through. Continue with remaining batter.
Notes
Serve with roasted Roma tomatoes and green salad
Tasmanian Gourmet Sauce Company https://gourmetsauce.com.au/
What you can read next