Peach Melba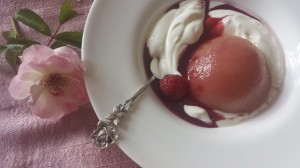 Peach Melba
2015-02-08 17:33:57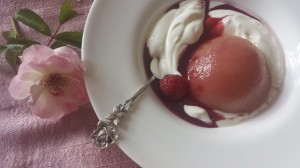 Serves 2
TGSC Raspberry Sauce & Tasmanian White Peaches - perfect for Valentine's Breakfast!
Ingredients
2 White Peaches
1 cup Sugar
2 cups Water
2 teaspoons Vanilla Bean Paste
1 cup Greek style Yoghurt
Tasmanian Gourmet Raspberry Sauce
Raspberries to garnish
Instructions
Melt sugar in water, add vanilla bean paste & bring to boil.
Add pitted and halved peaches and simmer for about ten minutes.
Allow to rest till cool enough to handle and gently remove skins.
Spoon a generous dollop of yoghurt into first dessert bowl
Top with 2 dessertspoons raspberry sauce
Spoon another generous serving of yogurt over the sauce to layer the colours
Spoon two peach halves over the yoghurt & raspberry sauce, glaze with some of the rose coloured syrup, and garnish with raspberries.
Repeat all for 2nd dessert bowl.
How delicious & simple is that!!
By Laurie
Adapted from A healthy adaptation of Escoffier's dedication to Dame Nellie (1892)
Adapted from A healthy adaptation of Escoffier's dedication to Dame Nellie (1892)
Tasmanian Gourmet Sauce Company https://gourmetsauce.com.au/
What you can read next