Mustard and sage pork cutlets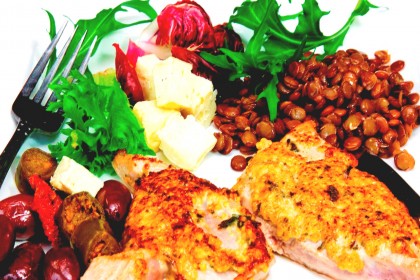 Mustard and sage pork cutlets
2014-05-13 13:32:27
Serve this dish with our stir fried red cabbage with juniper and pears for a wonderful combination of flavours.
Ingredients
200ml veal stock
200g green lentils
1 fresh bay leaf
¼ cup sage, firmly packed
4 tbs TGS Co Mild Wholeseed Mustard
1 garlic clove, finely chopped
1 tbs red wine vinegar
2½ tbs olive oil
4 pork cutlets (about 250g each)
Instructions
Pre-heat the oven to 200C
Combine stock, lentils, bay leaf and 300ml water in a saucepan. Bring to the boil, then reduce to medium and simmer until lentils are just tender and most stock has been absorbed (15-20 minutes)
Season to taste and keep warm.
Meanwhile, process sage, mustard, garlic, vinegar and 1½ tbs oil in a food processor to a smooth paste. Season to taste and brush thickly over both sides of the cutlets.
Heat remaining oil in a large frypan over medium heat, add cutlets and cook for 2-3 minutes each side, turning once, until golden. Transfer to oven for 4-5 minutes until just cooked through.
Notes
Serve with lentils and a green salad OR see recipe for stir fried red cabbage with juniper and pears.
Tasmanian Gourmet Sauce Company https://gourmetsauce.com.au/