Mediterranean Soufflé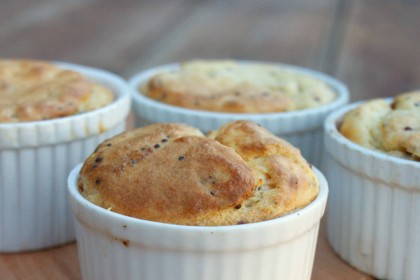 Mediterranean Soufflé
2015-06-25 18:48:17
A traditional country soufflé
Ingredients
1 tbs olive oil
1 brown onion, finely chopped
5 slices prosciutto, coarsely chopped
1 garlic clove, crushed
400g can diced tomatoes
2 tbs TGS Co Pepperberry Mustard
2 sprigs thyme
1 sprig rosemary
50g fine dried breadcrumbs
60g butter
50g plain flour
330ml milk
150 goat's cheese, crumbled
4 eggs, separated
2 tbs Italian parsley, chopped
2 tbs basil, chopped
3 tsp oregano
Instructions
Place a baking tray in the oven and preheat to 180C.
Heat oil in a saucepan over medium heat. Cook the onion, prosciutto and garlic for 5 minutes or until soft. Add the tomato, thyme and rosemary and increase heat to medium-high. Simmer for 8-10 minutes or until thickened. Remove and discard thyme and rosemary.
Grease six 375ml soufflé dishes with melted butter and dust lightly with breadcrumbs. Divide tomato mixture among soufflé dishes.
Heat butter in a saucepan over medium heat until foaming. Add flour and cook, stirring, for 2 minutes or until mixture bubbles and begins to come away from side of pan. Remove from heat and gradually add half the milk, whisking until smooth. Gradually whisk in remaining milk until combined and smooth. Place pan over medium heat and whisk for 3-4 minutes or until mixture thickens. Stir in the cheese and mustard and mix until smooth. Remove from heat.
Whisk in the egg yolks, parsley and oregano, then transfer to a bowl.
Use an electric beater to beat the eggwhites in a clean dry bowl until firm peaks form.
Add 1/3 of the egg white mixture to the cheese mixture. Use a large metal spoon to fold until just combined. Repeat in two more batches with remaining egg white. Spoon mixture into soufflé dishes. Place dishes on preheated tray and bake for 25-30 minutes or until risen.
Notes
Serve immediately with Greek salad
Tasmanian Gourmet Sauce Company https://gourmetsauce.com.au/
What you can read next