Drunken Rabbit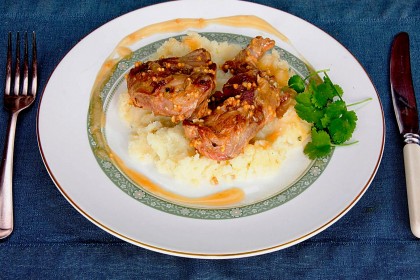 Drunken Rabbit
2014-05-13 18:53:12
We call it this due to the Tasmanian cider!
Ingredients
1 rabbit, about 1.5kg
¼ cup olive oil
100g sliced pancetta, cut into strips
5 eshalots
3 sprigs rosemary
140g TGS Co Mild Wholeseed Mustard
1 L alcoholic cider, preferably Tasmanian
4 cloves garlic, crushed
400ml thickened cream
Mashed potato, chopped Italian parsley and crusty baguette to serve
Instructions
Joint the rabbit into 8 pieces.
Heat the olive oil in a large deep frypan over medium-high heat. Add the rabbit pieces and brown for 5 minutes on each side, turning until golden. Remove rabbit from the pan and set aside. Add the pancetta to the pan and cook for about 5 minutes until golden. Add the eshalots, rosemary, mustard, apple cider and garlic. Season to taste.
Bring to the boil, then reduce heat to medium-low. Cover the surface closely with a piece of baking paper cut to fit, then replace the lid and simmer for 45 minutes until the rabbit is tender.
Stir in the cream, then cook for 5 minutes to heat through but don't allow to boil. Season to taste with sea salt and freshly ground black pepper.
Notes
Serve on a bed of mashed potato, topped with the pan sauce sprinkled with parsley.
Tasmanian Gourmet Sauce Company https://gourmetsauce.com.au/
What you can read next