Coconut and Apricot Tartlets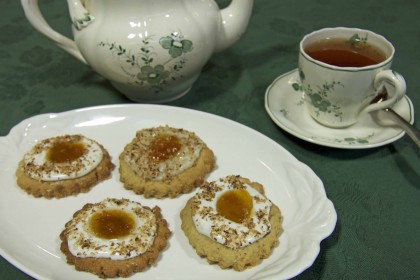 Coconut and Apricot Tartlets
2014-05-14 14:10:51
Ingredients
Pastry
1 cup flour
½ cup self-raising flour
2 tbs castor sugar
125g cold butter, chopped
1 egg
1 tbs water
1 cup TGS Co Apricot Jam
Filling
1 cup water
1 cup sugar
3½ cups desiccated coconut
3 eggs, lightly beaten
60g butter, melted
3 tbs milk
1 tsp vanilla
1tsp baking powder
Instructions
Pastry
Whizz flours, sugar and butter in a food processor until combined. Add egg and water, process until mixture forms a soft ball, cover and refrigerate for 30 minutes.
Roll pastry out thinly between 2 sheets of plastic wrap. Cut out pieces of pastry to line spaces in a tartlet tray (5cm base) Place 2 teaspoons apricot jam in each case.
Filling
Combine water and sugar in a pan and stir over medium heat until sugar is dissolved. Bring to the boil and allow boiling for 3 minutes without stirring. Cool for 5 minutes. Place coconut in a bowl, add sugar syrup, eggs, butter, milk, vanilla, and baking powder, mix well.
Spoon coconut mixture evenly into pastry cases
Top each tartlet with a piece of glace cherry. Bake in moderate oven for 30 minutes. Allow to cool before removing form tray.
Notes
The perfect end to a dinner party with good coffee
Tasmanian Gourmet Sauce Company https://gourmetsauce.com.au/
What you can read next