Chilli Mustard Fried Chicken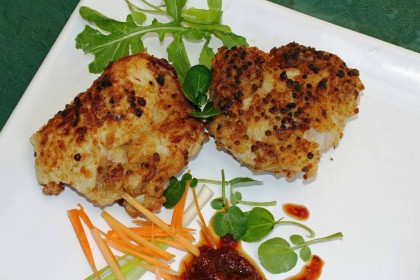 Chilli Mustard Fried Chicken
2014-05-13 16:07:52
Reminiscent of the deep South!
Ingredients
4 chicken marylands
1 cup buttermilk
1¾ cup plain flour
4 tbs TGS Co Hot Chilli Mustard
1 tsp paprika
1 tsp ground cumin
Sunflower oil to shallow fry
Instructions
Cut the chicken through the joints to separate drumsticks and thighs. Toss the chicken in the buttermilk, cover and refrigerate for at least 3 hours, overnight if possible.
Preheat oven to 200C and line an oven tray with baking paper.
Place the flour, mustard, paprika, cumin and 1 tsp salt into a plastic bag. Add the drained chicken to the bag and shake well to coat in the mixture. Shake off any excess.
Heat 1cm oil in a large heavy based frypan over medium heat to 180C (a cube of bread will turn golden in 30 seconds when oil is hot enough.)
Cook the chicken in batches to suit the size of the frypan for 4-5 minutes, turn and cook for another minute until browned. Transfer chicken to the baking tray.
Bake the chicken in the oven for 15 minutes or until cooked through.
Notes
Serve with rocket leaves and TGS Co Chilli Jam
Tasmanian Gourmet Sauce Company https://gourmetsauce.com.au/
What you can read next