Chicken Wings & Mustard Butter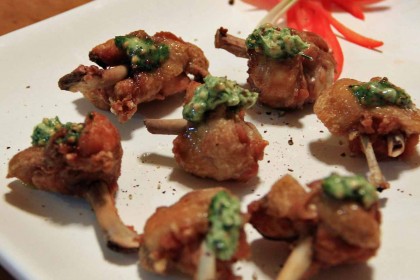 Chicken Wings with Mustard Butter
2015-04-15 16:34:39
Finger food with the perfect handle!
Ingredients
10 chicken wings with tips removed
600ml buttermilk
60g sea salt flakes
Sunflower oil
100g rice flour
Mustard Butter
40g TGS Co Honey Mustard
1tbs finely chopped dill
2tbs finely chopped Italian Parsley
2 chopped garlic cloves
200g softened unsalted butter
Instructions
Use a sharp knife to separate wings at the joint into 2 pieces. Hold the exposed bone at one end and push all meat to opposite end with a small knife to form a knob of meat, then trim the end of the bone. For the piece with 2 bones, remove the larger one.
Combine buttermilk and salt in a bowl, add wings and toss to coat. Cover and refrigerate for at least 3 hours.
To make the mustard butter, add all mustard butter ingredients and process until smooth.
Half-fill a saucepan with the oil and heat to 160C. Drain the wings from the buttermilk and toss in the rice flour. Deep fry in batches for 6 minutes or until golden.
Serve topped with knobs of the mustard butter.
Tasmanian Gourmet Sauce Company https://gourmetsauce.com.au/