Cheese and Relish Scones Recipe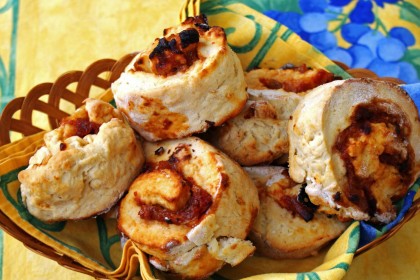 Cheese and Relish Scones Recipe
2014-06-03 14:24:02
A rural and rustic cheese and relish scone recipe to die for!
Ingredients
3 cups self-raising flour
1 tsp salt
½ cup butter
¾ cup TGS Co Tomato Relish
½ cup strong cheddar cheese, grated
Milk
Instructions
Preheat the oven to 200C
Combine salt and flour. Rub butter into the flour mixture until it resembles breadcrumbs. Add enough milk to make pliable dough.
Press dough out onto a floured surface into a rectangle shape 1cm thick.
Spread entire surface with Tomato relish and grated cheese avoiding the edges.
Preheat the oven to 200C
Roll the dough rectangle length ways and cut into 2cm thick pinwheels and place on a floured baking tray.
Cook for 15 minutes OR until part golden and cooked through.
Notes
Serve with cheese and cold meats as a snack or entree
Tasmanian Gourmet Sauce Company https://gourmetsauce.com.au/