Cheese and Pepperberry Mustard Scones Recipe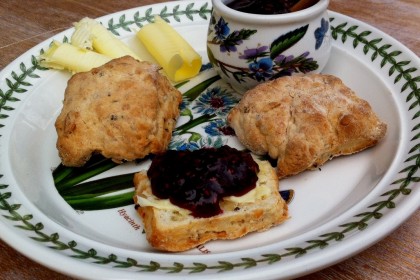 Cheese and Pepperberry Mustard Scones Recipe
2014-05-20 14:42:30
A versatile scone in a sweet or savoury setting.
Ingredients
250g self-raising flour
1tsp baking powder
½ tsp salt
40g butter
175g grated mature cheddar cheese, plus extra for sprinkling
3tsp TGS Co Pepperberry Mustard
150ml milk or natural yoghourt
Optional - 1 egg yolk beaten with 1 tsp water to glaze
Instructions
Preheat oven to 220C. Sift flour, baking powder and salt into a bowl. Rub in butter until mixture resembles fine breadcrumbs. Stir in cheese.
Mix the TGS Co Pepperberry Mustard with the milk or yoghurt. Add the dry ingredients and mix quickly until the mixture just comes together. Do not over-mix or the scones will be tough.
Knead the dough lightly on a floured board. Pat or roll to depth of 2cm . Cut into squares or use a 5cm cutter.
Place the squares or rounds on a non-stick or greased baking sheet. Brush with egg glaze and sprinkle with extra grated cheese.
Bake for 10 minutes until risen and golden. Cool on wire rack. Makes 12 medium scones.
Notes
These are wonderful served with jam -a blend of sweet and savoury.
Tasmanian Gourmet Sauce Company https://gourmetsauce.com.au/