Cheese Pastry Cups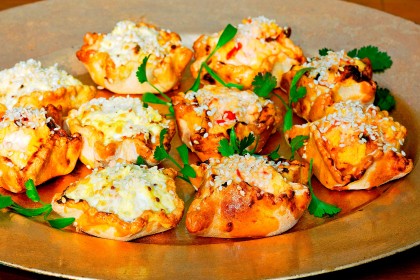 Cheese Pastry Cups
2014-05-13 15:58:42
This recipe works well with either our Chilli jam or Honey mustard. If Chilli jam is used, the cups will be spicier than the mustard equivalent
Ingredients
1 kg ricotta cheese
3 eggs, lightly beaten
500g plain flour
50ml olive oil
2 tbs Greek style yoghurt
Sesame seeds to sprinkle
½ cup TGS Co Chilli Jam OR ½ cup TGS Co Honey Mustard
Instructions
Strain ricotta and place in bowl with 2 eggs and a pinch of salt. Stir to combine. Refrigerate until needed.
To make the pastry, place flour in a bowl and make a well in the centre. Add oil, yoghurt and a pinch of salt. Gradually add 220ml lukewarm water and stir to form a dough. Place on a lightly floured work surface and knead for 5 minutes or until firm, smooth and elastic, adding extra flour if necessary. Cover and set aside for 30 minutes to rest.
Preheat oven to 200C and line 2 oven trays with baking paper. Divide dough into 6 and roll each portion until 2mm thick. Using a 9cm cutter, cut 8 rounds from each portion to make 48 rounds.
Place 1 tbs ricotta mixture in the centre of each round. Bring pastry up around the filling and pinch pastry around the edges to form a star. Brush pastry lightly with remaining egg and sprinkle with sesame seeds. Bake for 30 minutes or until pastry is golden and cooked through.
Notes
Serve as an entree or a snack with a glass of good sparkling.
Tasmanian Gourmet Sauce Company https://gourmetsauce.com.au/
What you can read next